Employee volunteering involves an employed individual giving time through a planned activity for a charitable group or organization. Encouraging volunteering in the workplace can help boost employee morale, workplace atmosphere and brand perception. 
With a busy work schedule, it can be hard to fit volunteering into an employees day, but if a company encourages volunteering and sets aside time for one to sign up, it can help motivate and build team spirits in the place of work. People take part in volunteering for many reasons. It offers the chance to give back to the community or make a difference to the people around them. For others, it provides an opportunity to develop new skills or build on existing experience and knowledge. 
1 – Connecting with causes that your employees care about
Working with a cause that your employees care about and align with, will help all involved feel a sense of accomplishment and fulfilment. This will also help to increase overall job satisfaction.
At Humanli, we connect corporates with a member of our Humanli Family and we ensure the charities are linked to the social concerns that each company values. 
2 – Improve employee wellbeing
A survey was taken by Project Helping and stated that "94% of people feel volunteering has improved their mood". 
Giving back to others in a selfless way can help uplift people's moods, and bring a sense of achievement. Volunteering can also help to boost good health and wellbeing. Whatever type of volunteering you're involved in, it can help release "happy endorphins", which can release stress, and boost one's mood, giving them an overall rejuvenated feeling. Volunteering is great for the community and making it a better place. When one gets involved in causes they're passionate about, it enriches their sense of purpose. 
3 – Attracts the right candidates
Working with charities can encourage the right candidates for your company. A survey from Achieve, states that ⅓ of employed millennials were intrigued by volunteering policies in a company and this affected their decision whether to take the job. 39% said it influenced their decision and 55% said it encouraged them to accept a job offer. Feeling like they can relate to a company and its values is key for new employees. 
4 – Develops employee skills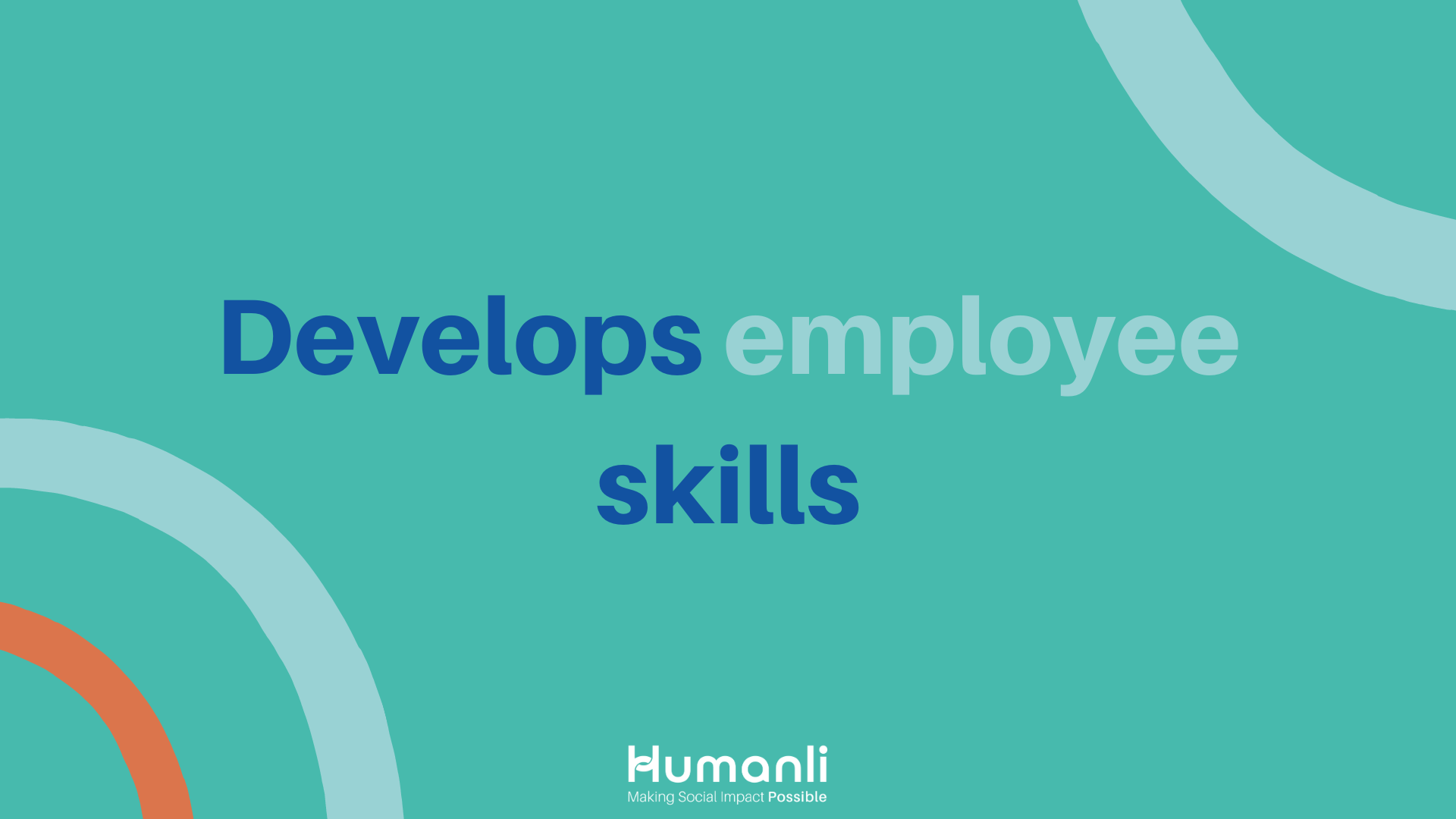 Volunteering is said to develop various skills that are effective in the workplace. Many diverse skills flourish with volunteering, such as relationship building, the ability to teach & mentor, strategic thinking, and self-development. These skills are developed through various volunteering activities and employees learn to express these actions within their workplace.
5 – Strengthens the relationship between employers and employees
Employee volunteering strengthens relationships between employers and employees. Employees learn a lot about themselves when they take part in volunteering. It builds confidence in their abilities, helps them to better understand the challenges in their community, motivates people in the workplace and brings a sense of belonging to their company. 
In a study from Volunteer Ireland, employees report greater motivation at work, increased commitment to their company, as well as better social connections with their colleagues. Employees appreciate their employers for allowing them to take part in causes that mean something to them. 
'It has been shown that employee lead initiatives in this space often end up being the best ideas with the most fruitful outcomes so as a practice, should be encouraged by an employer.' – Karen Kelly of Beckman Coulter, based on their experience of employee engagement.
Building and maintaining relationships is key within companies to work towards a brighter future and building confidence between employees and employers. 
Employee volunteering increases the community profile of your company and creates a lasting & positive impact on those who take part. Humanli bridge the gap between causes and companies, and help to build a long-lasting relationship that makes a difference.
If you are interested in learning more about how we can help, contact the Humanli team.