Cliona's Foundation was established by Brendan and Terry Ring in 2006 to provide financial assistance to families with sick children.
Cliona's Foundation helps families all across Ireland by offering financial support toward non-medical bills. They are the first charity of its kind in Ireland and firmly believe that no family should face any additional stress when it comes to their finances when they're already struggling with the devastation and trauma of having a sick child.
The charity was set up by the Ring's in 2006 following the death of their daughter, Cliona. While in hospital with their daughter, they saw how other families struggled and the financial toll it took on these families who are already having to deal with the devastation of an ill child. They decided to take action and set up Cliona's Foundation, by proving financial aid to these families. Brendan and Terry understand first hand the stress families are going through at this time, and the financial assistance from Cliona's Foundation covers a diversity of expenses – from rent, food, utility bills, transportation for chemotherapy or alternative therapies, a treat for a sibling and even covering the cost of a child's funeral.
Funding
The non-medical expenses can cost up to €10,000 a year for one family. This is an additional cost of over €800 a month, on top of basic bills. There are over 4,000 critically ill children in Ireland of which 400 will die this year with an additional 400 new seriously ill children diagnosed. Cliona's Foundation is hoping to support 160 of these families over the next year and this will require funding of at least €320,000.
Since the Foundation started, it's raised over €2,000,000 and helped over 8000 families in Ireland who were inundated with non-medical expenses. Bills include accommodation, parking, food and essentials while in hospital as most families need to take time off work to be with their child so there is an additional cost of lost income. Until a family are in this situation, they do not understand the struggles and bills that stack up.
Cliona's Foundation receives no state funding and relies entirely on fundraisers and events to support the many families who contact them each year for support. They rely on income raised through events & fundraising, corporate donations, philanthropy & private donations and partnerships with other charities. 
Listen to Founder Brendan Ring on The Humanli Podcast
Thank You Notes
"Bills were the last things on our mind when our son was in the hospital and we spent many weeks in the Ronald McDonald House. Thanks to Cliona's Foundation for saving our young family and on the day the cheque was received seeing tears turn to smiles was beautiful." – Family from Limerick
"Your kindness has helped us so much. I was lucky to be on maternity leave during our baby's time in Crumlin but my husband did not work for the 7 weeks she was battling hard in the hospital. Money doesn't be long-running low between parents accommodation, parking & food. At the time we didn't care about bills or anything but they keep coming no matter what's going on." – Family from Clare
"You have no idea what this means to us; it will help us in a huge way. When our daughter got sick, my husband had to give up his job as we have 3 other kids, all under 7. This money will help us so much in just our basic day to day life, the food shopping & the diesel costs to Dublin for appointments." – Family from Sligo
"I just wanted to say thanks so much when I opened the check it actually made me cry. I was just so overwhelmed it means so much to have something in my pocket going away takes some of the pressure off. Ye are amazing ye will never know how much it means to us." – Family from Cork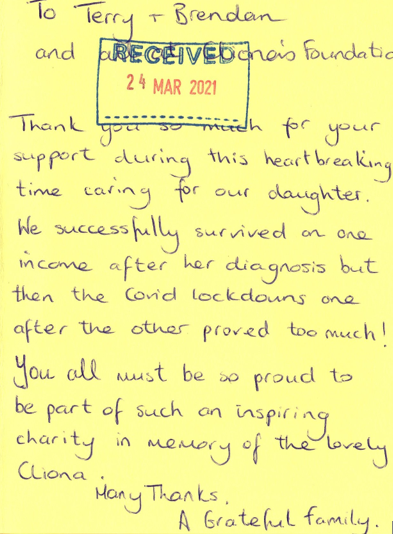 "I just wanted to send a quick email to say thank you for the recent financial support that you provided to our family. Our very special little man turns 4 years this coming June. We were told that we would have him for weeks. Our little man has life-threatening apnoeas & seizures, and so he needs round-the-clock observation. He is NEVER out of our sight. With your help, we were in a position to hire in some nursing hours, just to give us time to spend with his older (and somewhat emotionally neglected) brother. You cannot begin to imagine what this meant to our family, but especially for his brother. Thank you, from the bottom of our hearts." – Family from Kildare
To learn more about Cliona's Foundation, visit their website here.